Rewinder40 Black Reusable Mask - Size L
R-01010
Tax included.
Shipping
calculated at checkout.
L - Adult oriented. Formerly known as 'Adult Size'.
M - Aimed at children from the age of 8, teenagers and narrow-faced women. Previously known as 'Size 8-12'.

Visit our 'Size Guide' for more detailed information.
Reusable hygienic unisex mask up to 40 washings.

Discover our alternative to disposable and single-use masks, REWINDER40, designed to prevent the spread of Covid-19, protect you and your family's health in a sustainable way.

Our 100% organic cotton product has been manufactured entirely in Spain. REWINDER40 has a double layer of fabric with a water-repellent treatment that repels 100% of all types of liquids, inwards and outwards. We have designed this mask with our planet in mind, your comfort, providing it with very soft rubbers and the best breathability on the market.
All these features make it unique.
Choose REWINDER40 and you will help reduce the generation of waste in the environment, you will be supporting a young company that generates employment in Spain and cares about the most disadvantaged sectors. Of your purchase, 5% of the profit is destined to the Red Cross and Aldeas Infantiles.

Join the Rewinder revolution, let's build together the present by loving our future.
Instructions for use:
For its correct use and washing we recommend you to read all the detailed information about its care, correct use and characteristics.
Certifications
If you want to know the REWINDER40 certifications you can consult them below.
Shipping and Returns Policy
We work hard every day to improve our preparation and delivery times, as well as to improve in all known ways and to discover our service.
Valoración de los clientes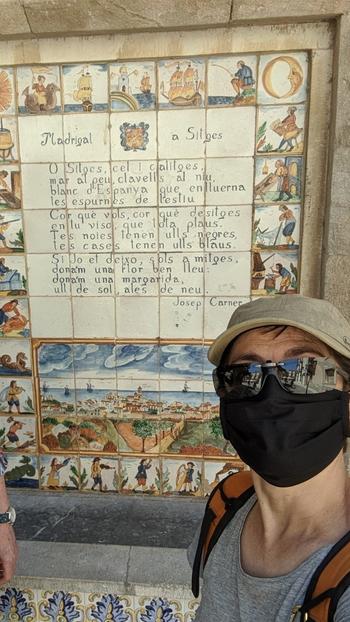 07/06/2020
Recomiendo este producto
Muy cómodas y ecológicas
Es la segunda vez que compramos las mascarillas, se nota que su algodón es de calidad, son muy cómodas, se respira muy bien y se adaptan muy bien a la cara. Muy recomendables, todavía no hemos usado mascarillas desechables desde que empezó la pandemia.
Marta G.
Spain
08/26/2020
Recomiendo este producto
Muy bueno
Es agradable al tacto,no se suda mucho,que sea reutilizable es miy bueno y respetable con el medio ambiente. Lo unico es que en el segundo pedido han. Venido muy grandes,con más telas que las primeras.,y tapa casi los ojos.
Monica O.
Spain
08/13/2020
Muy buen producto
Excelente calidad. Pero su eres chica, mejor pide la talla 12.
Idaira C.
Spain
08/09/2020
Bueno pero mejorable
Las gomas son mucho más grandes y cuesta sujetarlas bien. La marca rewinder se difumino, en una de las mascarillas, por el calor de la plancha
MANUEL B.
Spain
07/20/2020
Perfecta
Mascarilla cómoda.
Saúl G.
Spain
07/20/2020
Las mascarillas son muy grandes
No he podido usarla porque compré la de adulto (soy una mujer de 39 años) y me queda gigante. Una pena porque la tela es agradable y me gusta el concepto del producto.
Clara S.
Spain
07/20/2020
Geniales
Se respira muy bien ya no quedan pegadisimas a la cara, lo necesario para que no queden huecos, repele las gotas una pasada. Transpirables.
Marina U.
Spain
07/19/2020
Excelente
Muy buena. No dan calor y te dan mucha seguridad a la hora de usarla. La volvería a comprar sin duda
Sheila L.
Spain
07/17/2020
Dos adultos, dos tamaños
Muy satisfecha, salvo que el tamaño Adulto Unisex resulta muy grande para mi. A mi marido le sirve de maravilla. Quizás alguna solución que no sea un nudo para reducirla estaría bien, o que especificaran que este tamaño es bastante grande, en cuyo caso quizás hubiera elegido el siguiente. Por lo demás, muy satisfecha con la presentación, embalaje, explicaciones y envío. Y sobre todo, que sean sostenibles. Muchas gracias
Ana d.
Spain
07/16/2020
Una talla demasiado grande
La experiencia con las primeras mascarillas que compré, blancas, hace un par de meses, fue excelente... Sin embargo las mascarillas negras que compré hace unas semanas me parecen desmesuradamente grandes, me sobra tela por todos lados. Una lástima, las primeras eran perfectas.
SE
Saga E.
Spain
07/16/2020
Recomendable
Tejido hidrófugo en ambos lados, cómoda, quizás falta un ajuste en la nariz. Envío rapido
Agustin M.
Spain
07/13/2020
Fenomenal compra
Muy cómoda, algodón de muy buena calidad. 100% recomendada!!
Roberto C.
Spain
07/13/2020
Son muy cómodas, pero me cuesta más respirar que con las higiénicas desechables. Creo que es por el calor, por eso creo que vuestras mascarillas serán más cómodas para el otoño e invierno. Gracias
YOLANDA L.
Spain
07/11/2020
Pilar M.
Spain
07/08/2020
Excelente
Cómoda , segura y además colaboras con el medio ambiente
Montserrat B.
Spain
07/08/2020
Excelente
Son cómodas, muy suaves y la sensación de ahogo se atenúa bastante.
Lidia E.
Spain
07/07/2020
Excelente
Me encantan, cómodas, ligeras y sobretodo porque ayudamos al medio ambiente. Las recomiendo.
Nieves S.
Spain
07/06/2020
Podría mejorarse.
La respirabilidad de la mascarilla es muy buena ,pero la talla adulto es demasiado grande, una de las gomas se soltó nada más ponermela( una puntada y arreglado) aunque no debería pasar en una mascarilla q vale 10€ y quizá falta una varilla para que el agarre de la nariz sea perfecto.
Maribel P.
Spain
07/06/2020
Cumple, con un problema
El problema es que al aparentar ser de simple tela hay sitios donde me han puesto pegas, pues exigen que se vea que son quirúrgicas o Fpp2. Su apariencia "casera" le perjudica en esos casos
Alejandro G.
Spain
07/03/2020
Protegid@s y concienciad@s
Cómoda y sostenible, aunque sea un poco rollo tener que plancharla tras el secado...odio planchar!
Marta S.
Spain