One Week Pack x5 - Rewinder40 Basic
R-01015
Tax included.
Shipping
calculated at checkout.
L: Oriented to large unisex adults and women L and XL.
M: Oriented to teenagers and women size S and M.
S: Oriented to girls and boys between 6 and 9 years old.
XS: Oriented to girls and boys under six years old. Only on request.
Attention! Currently in Spain the mask is not mandatory for children under six years of age.


Visit our 'Size Guide' for more detailed information.
New ONE WEEK PACK of REWINDER40 Basic in black or navy, and with nasal adjustment.
Receive five masks at home, one for each day of the week, plus a cotton bag in which to store it comfortably. You can now be protected or protected from Monday to Friday without waiting to wash your mask every day, both adults and children.
Trying to make your day to day easier so that you continue to have the best protection without giving up the protection of the planet, Rewinder launches this pack of five masks in navy and black colors, in three different sizes. The great novelty of the masks that this pack contains is that they include nasal adjustment, to favor a total adjustment to the face.
This pack will come with a gift bag so that you can store them comfortably and as an ear protector. We also remind you that each mask goes in an individual recycled plastic bag specifically designed and produced, so that you can receive it in perfect condition and so that, after each use, you can keep it isolated until the moment you go to wash it. In this way you will be reusing not only the mask but also the bag that accompanies it and that at the end of its life, you can deposit it in the plastic recycling container.
Avoid disposable and single-use masks, recommended for healthcare personnel and sick. The REWINDER40 has been designed to prevent the spread of the virus, protect your health and that of your family in a sustainable way. REWINDER40, made of 100% organic cotton, has been manufactured entirely in Spain, has a double layer of fabric with a water-repellent treatment that repels 100% all kinds of liquids, in and out.
We have designed this mask with our planet in mind, your protection and comfort, providing it with very soft rubber bands, with the best breathability on the market and the softest touch. All these characteristics make it unique.
Choose REWINDER40 and you will help reduce the generation of waste. Regarding the environment, you will be supporting a young company that generates employment in Spain, which practices the circular economy and cares about the most disadvantaged sectors. Of your purchase, 5% of the profit is destined to the Red Cross and Children's Villages.
If you also add any of our shopping bag models to your order, you will be helping to offset the carbon footprint, because we plant a tree for you. to the Rewinder revolution, let's build the present together to guarantee the future.
Valoración de los clientes
Lola G.

Spain
05/02/2021
Once week pack
Entrega muy rápida y producto estupendo
Marta R.

Spain
04/30/2021
Me encantan!! Recomendables 100%!
Producto muy bueno, el pack además permite ahorrar, y tener una para cada día. Sostenible, canario, limpio! Las recomiendo totalmente!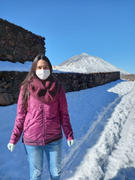 05/12/2021
Rewinder | Zero Waste
Muchas gracias Marta ❤️ Por tu comentario y por la maravillosa foto junto a nuestro Teide. Nos alegra mucho tenerte en la familia Rewinder. Juntos seguiremos consiguiendo que miles de mascarillas NO acaben en nuestros preciosos y valiosos entornos naturales. ¡Que sigas muy bien! Saludos del equipo Rewinder
Maribel F.

Spain
04/26/2021
Muy buen producto
Calida fantástica, muy buena presentación del producto.
Inmaculada C. Montero Rodríguez

Spain
04/26/2021
Buenísimas las mascarillas.
Me encantan las mascarillas Rewinder, son cómodas, muy transpirables, y al ser lavables te duran bastante tiempo. El pedido ha sido fácil y rápido. Seguro repetiré.
04/27/2021
Rewinder | Zero Waste
Muchas gracias por tu comentario Inmaculada ✨ Trabajamos duro día a día para ofreceros la mejor alternativa a las mascarillas desechables. Nos alegra muchísimo a todo el Equipo Rewinder leer mensajes como el tuyo. Gracias por ser parte de la Revolución Rewinder ♥️
Walterio D.

Spain
04/25/2021
Perfectas
Excelente y con el ajuste a la nariz perfectas
04/28/2021
Rewinder | Zero Waste
Gracias por tu comentario positivo Walterio Nos habíais pedido mucho que incluyéramos el ajuste nasal y nos alegra a todo el equipo que os guste tanto.
David S.

Spain
04/25/2021
Excelente
Como de constumbre muy buena
Iago L.

Spain
04/21/2021
Volveré a comprarlas
Fácil compra y rápido envío. Además las mascarillas son cómodas y seguras.
Juana M.

Spain
04/20/2021
Excelente
Las mejores mascarillas sin ninguna duda.
Jesica D.

Spain
04/12/2021
Cómodas y fresquitas
Estupendo pack. Con nueva pinza para el ajuste a la nariz. Mi hijo las usa para el cole y son sus preferidas. Huelen bien durante todo su uso, son suaves y agradables. Muchas gracias por el producto y el servicio eficaz y rápido.
04/13/2021
Rewinder | Zero Waste
Gracias a ti Jesica, por comentarnos tu experiencia positiva con nuestras mascarillas y por formar parte de la Revolución Rewinder ✨ Trabajamos muy duro para encontrar el material perfecto para una mascarilla que nos aportara comodidad y que nos protegiera. Nos alegra mucho que os gusten y que, al utilizarlas, evitéis que mascarillas de plástico acaben en nuestros océanos ♥️
Clara M.

Spain
04/11/2021
Rapidez y eficacia!!!
Me llegaron en 24h!! Además estoy muy contenta con su comodidad y su tejido, que no daña nada la piel, sin duda repetiré.
04/13/2021
Rewinder | Zero Waste
Gracias Clara ♥️ Siempre intentamos superarnos con los tiempos de entrega ✨
Dolores V.

Spain
04/11/2021
Muy buenos
La pinza de la nariz es muy útil y cómodo
04/13/2021
Rewinder | Zero Waste
¡Gracias Dolores! ♥️ Nos alegra mucho que te guste nuestra nueva incorporación. Nos lo habíais pedido ya bastante y, por supuesto, mejoramos gracias a clientes como tú, gracias a nuestr@s rewinders más fieles que nos motivan a superarnos día a día
04/07/2021
La mejor opción
Ya utilizaba mascarillas Rewinder antes, pero llevaba tiempo pensando que lo mejor era comprarlas por packs y me ha alegrado muchísimo de que los hayáis sacado. ¡ME ENCANTAN! Y la incorporación del clip nasal ya es muuy top